AMS Red Alpha Driveshaft by Driveshaft Shop (Carbon Fiber / Aluminum) - Infiniti Q50 / Q60 (AWD)
You'll earn OG Points with this product!
(Click to Pre-Qualify)
Please carefully review the vehicle application below before purchasing.
Generally in stock, if not, may require a special order. To check on inventory please email us at: sales@outcastgarage.com.
If in stock, ships within 1 week.
Free Shipping to the Lower 48 States.
Ships from AMS Performance via Ground.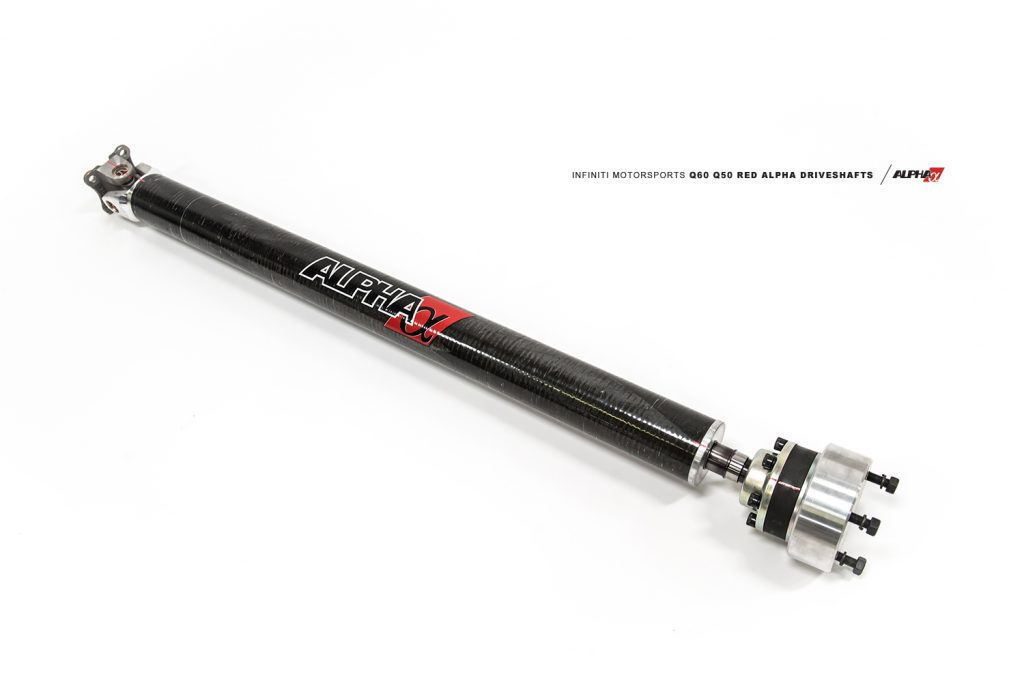 AMS Performance is excited to release the first in the line of INFINITI Q60 and Q50 Red Alpha products. Introducing the INFINITI Q60 + Q50 Red Alpha Driveshafts by DriveShaft Shop. We have partnered with the industry leader in driveshafts to give Alpha customers the best in getting the pavement shredding power of their VR30 3.0L Twin Turbo to the ground. This driveshaft helped us get to the world record quarter mile run in our shop Q60 Red Alpha with a 1.48 second 60′ time.
The Strength of Alpha
---
The Aluminum one piece INFINITI Q60 + Q50 Red Alpha Driveshaft is made from 3.5″ x .125″ wall 6061-T6 Aluminum and is rated to 3464 ft lbs of torque and spun at over 9000 RPM. Alpha's superior one piece design eliminates the power robbing sloppy center knuckle which is a weak point in the stock system. Our one piece aluminum shafts are manufactured using a pulse welding technique as opposed to mig welding. The pulse type weld creates a lot less heat resulting in a stronger shaft. The CV used in the Alpha shaft is a purpose built high speed CV from GKN in Germany. The spline that the CV mounts to is made from 300m and is capable of transferring 6800 ft lbs of torque without failure.
The INFINITI Q60 Red Alpha one piece carbon driveshaft version is manufactured using a new carbon fiber weave that was tested to 6800 lbs of torque! The main difference between the carbon and aluminum driveshaft is that the 3.25″ diameter carbon fiber tube is more torsional than aluminum, therefore it can twist more under load resulting in a smoother transfer of power at launch or between shifts. Aluminum is already much more torsional than steel, (about 15° under load vs about 5° for steel) but carbon fiber can go upwards of 30° to 35°. Carbon fiber is also typically quieter and there is typically a 2-3lb difference in weight which will help acceleration as well. It will be a significant upgrade over the stock 2-piece driveshaft. The one piece drive shafts will make more noise than their stock two piece counterparts.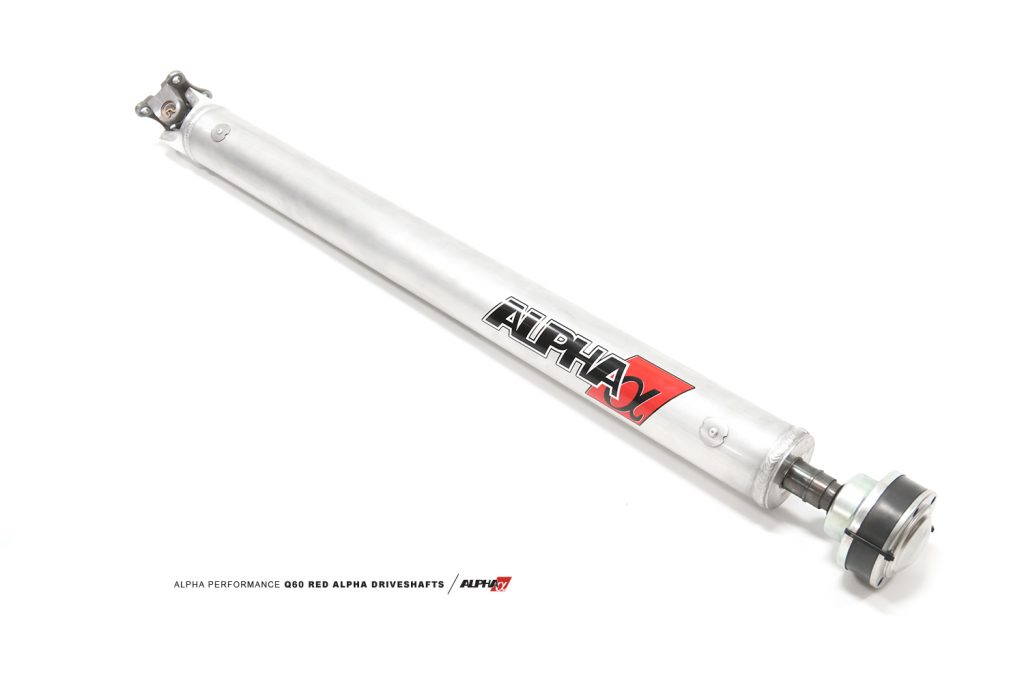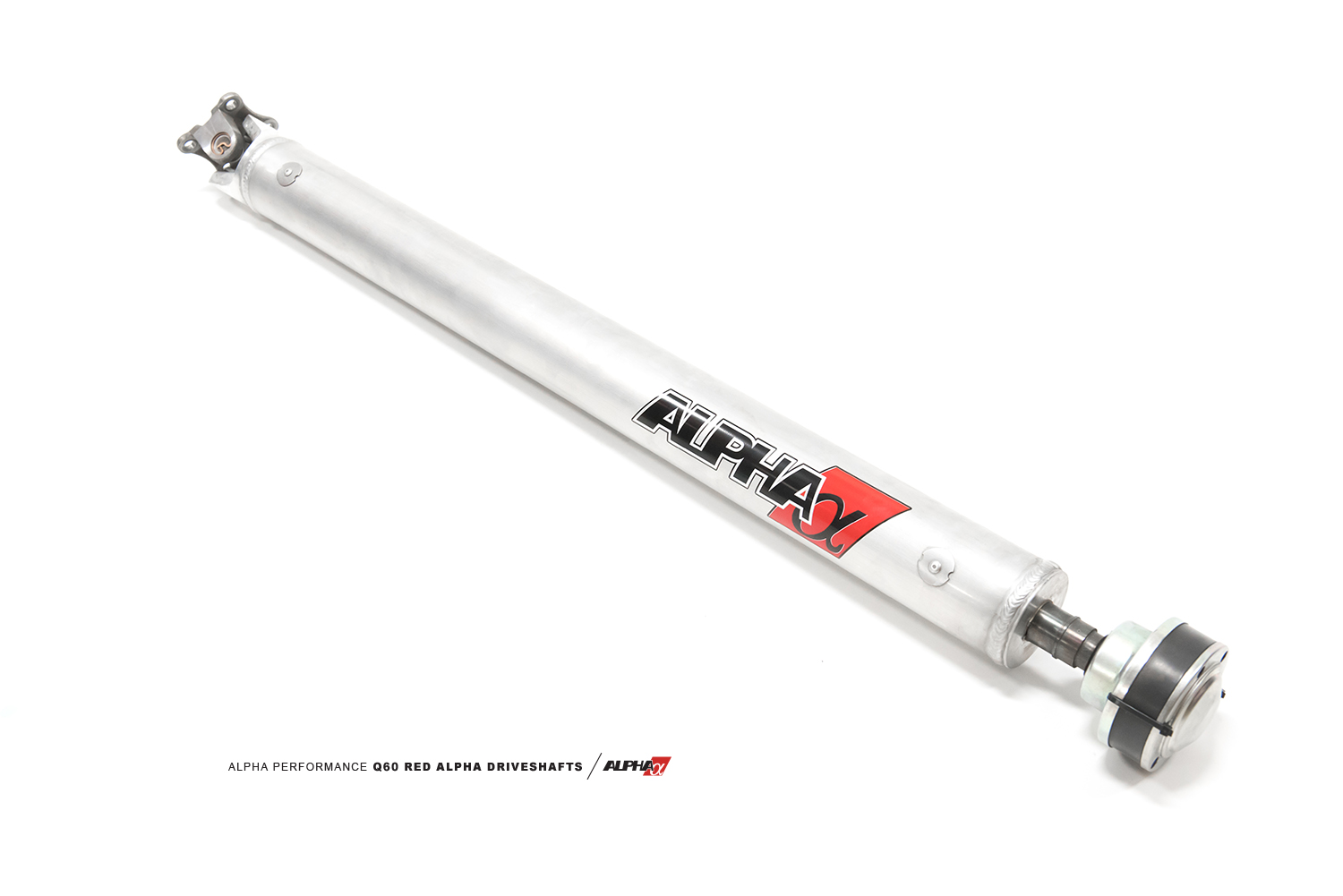 Features
Superior One Piece Design
Aluminum Shaft Manufactured from 3.5″ x .125″ thick wall 6061-T6 Aluminum
Carbon Shaft Measures 3.25″ in Diameter
Rated to 3464 ft lbs of Torque
High Speed Balanced and Rated for over 9000 RPM
Pulse Welded Means Less Heat for a Stronger Shaft
Purpose Built German High Speed CV
High Strength Spline is 6800 ft lb tq Capable
Solid U-joints from Dana/Spicer and without Grease Fittings
Aluminum Shaft Rated to + 800 HP
Carbon Fiber Shaft Rated to + 1000 HP
12 Month Warranty

Vehicle Applications
Alpha Performance Infiniti AWD Q50 / Q60 1-Piece Dampened 3.5″ Aluminum Driveshaft
ALP.28.03.0001-1  MSRP: $944.99
Alpha Performance Infiniti AWD Q50 / Q60 1-Piece Dampened 3.25″ Carbon Fiber Driveshaft
ALP.28.03.0001-2  MSRP: $1522.49
Product Notes
*The one piece drive shafts will make more noise than their stock two piece counterparts.
| | | |
| --- | --- | --- |
| Alpha Aluminum/Carbon Q60 Q50 Driveshaft Torque Specifications | | |
| * Use a small amount of red Loctite® on all hardware | | |
| AWD | QTY | Torque Specification |
| Front Transmission Output Flange Bolts (OEM Bolts) | 4 | 59 ft lbs |
| High Speed CV to Differential Adapter | 6 | 57 ft lbs |
| Differential Adapter to Diff Input Flange | 3 | 70 ft lbs |